Personal Loans for Business
A loan from a financial institution against personal assets (usually real estate) but where it is understood the funds will be used to finance small business operations. Has the disadvantage that if the business fails, you are still personally liable for the debt.
Purchase of inventory or equipment for a startup business
Purchase of a franchise operation
Purchase of equipment to launch a small business
Minimum Credit Score: 580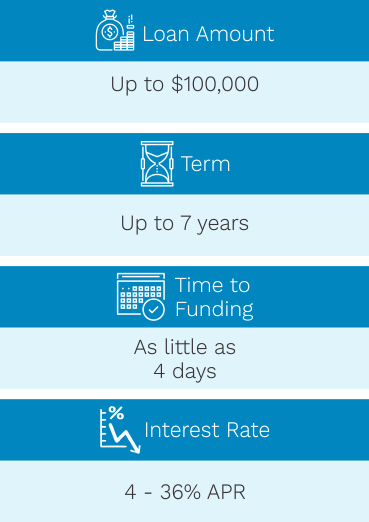 Low fees
Easy application process
Lack of business credit history irrelevant
Available to most people with good credit history
Capped loan amount
Delinquent payments impact your personal credit score
Commingles business and personal finances
Disclaimer: The above information is provided as a guideline. Some loan conditions may fall outside of these parameters. We recommend that you speak with one of our advisors before taking any course of action based on this information.
In combination with a Business Credit Card (see Small Business Startup Loans) a personal loan for business is often the only option to get a brand new business off the ground. If your business is at the idea stage, or you haven't been operating long enough to establish any kind of financial or credit history, your business simply won't qualify for traditional forms of business financing. This is where you'll need to be sure of your business plan, as a personal loan is just that, a loan secured by your own personal assets (usually your home), which you'll be on the hook for whether your business succeeds or not.
To apply for a personal loan for your business, you won't need to provide the bank with any business financials. As the loan will be secured against your personal assets, the bank won't care about your business plan, no matter how good it might be. You will need to have equity in your home, or other easily liquidatable assets as collateral and you will need a good credit score. You may also need to prove income, so if you're considering starting up a business that will require you to quit your day job, you should secure the loan before taking that final plunge. If you're already self-employed or have started your business, your spouse or partner may need to qualify for, or at least co-sign for the loan.